Our Mission, Should we Choose to Accept it
Many people search for meaning in life, but do not know where to look. Many people pray to numerous deities, assured that they will receive what they pray for. I was lucky in that I knew the meaning of life was firmly held by the best divine being of all, tucked away in the small Mayan town of Santiago de Atitlan. Getting to Santiago de Atitlan would be easy. Finding the deity would be relatively simple as well, I thought. Convincing myself that a whiskey drinking, cigar-smoking supreme being held such a coveted secret was truly the only difficult part.
We were to embark on our journey in the morning, taking a boat across Lago Atitlan to Santiago after staying the night in Panajanchel ("Pana"). Pana was, and is, a notoriously famous destination for the hippy culture, which just means it has a lot of things that we were not exactly interested in. In Pana, however, I suppose we learned many wonderful new things. For example: the hammock to human ratio is at least 5:1; three cacao beans are all you need to sustain you for the day; acoustic Bob Marley songs are the preferred form of communication; and showering is optional. Oh, and … I … uh, also witnessed a rape for the first time.
An Alarming Aside
We stared in disbelief as a pack of male, feral dogs viciously molested a female dog. It's a nature experience I wish I could un-have.
The sight of skinny, mangy canines teaming up on a helpless female reminded us how far away from home we were. But near this lawless hound-town was where it all began. On August 13, 3114 BCE, according to the Mayans, the world, as we know it, began in Santiago Atitlan. We headed to the Pana dock past stores cluttered with swinging hammocks and boarded our boat to Santiago.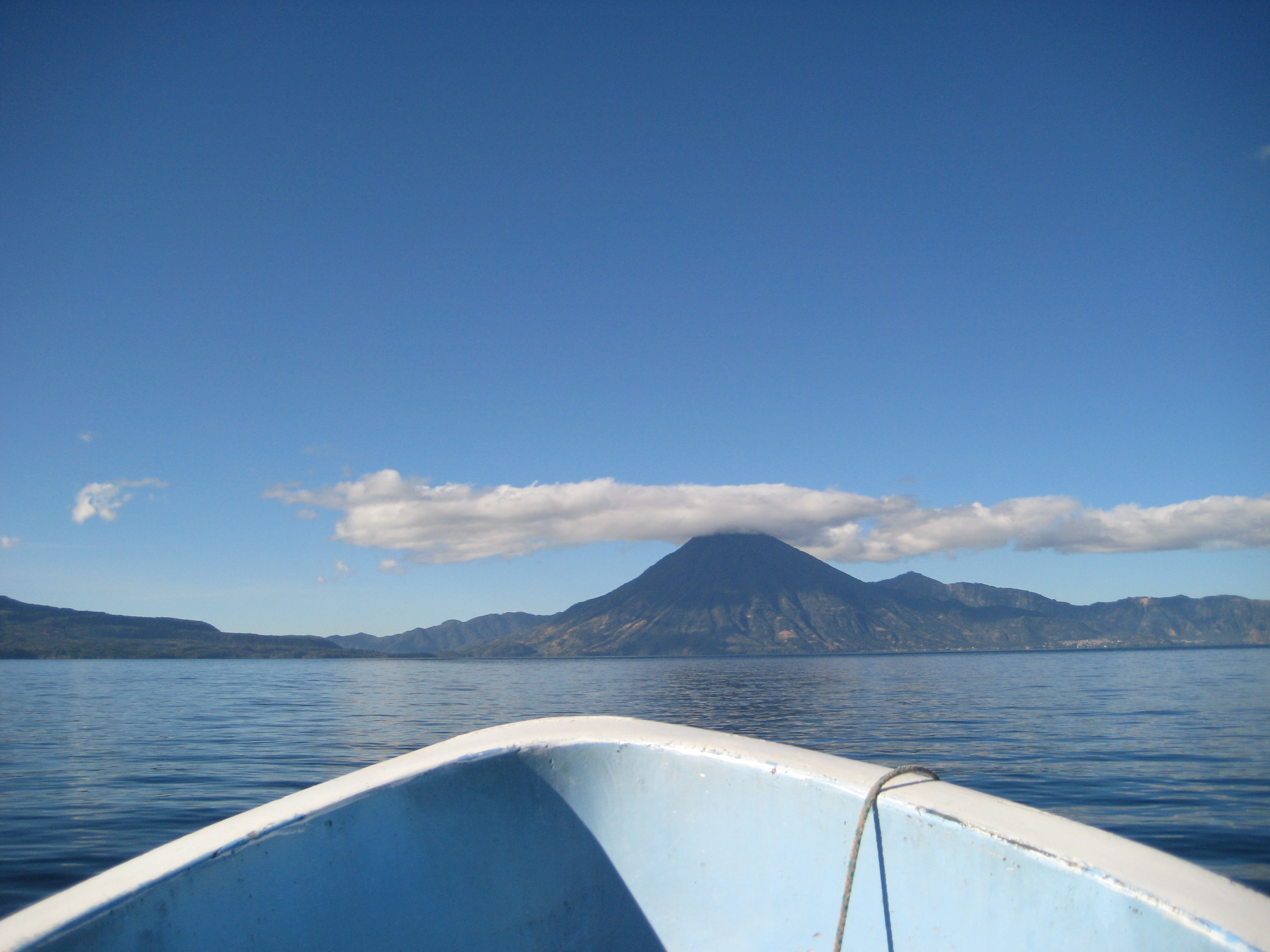 En Route
If the Maya creation story is to be believed, the fine people of Santiago haven't strayed far from home in…well…ever. In the pre-Columbian era, meaning before Christopher Columbus (see what you just learned!), meaning before white people (see what you already knew!), the name of the city was Chuitinamit, which was the capital of the indigenous Mayans know as the Tz'utujil people. The Tz'utujil still reside in Santiago, where they speak their own language, and continue their age-old traditions, beliefs, ceremonies, and habit of talking on cell phones. Friendly people when they want to be. Of course they did kill the American Catholic priest Stanley Rother by death squad in 1981 – one of 10 priests murdered in Guatemala that year. But still, sorta friendly people.
Well, maybe not friendly with the dozen other towns lining the coast of the lake. But across the large body of water seemed like worlds apart for the citizens of these lake towns. It was explained to us that these towns had been warring forever. A deep-seated hatred existed between each town and, over time, each town took to identifying its people with different colors and patterns of attire.
Combing the Streets of Santiago
As Cait and I walked down the streets of Santiago, we noticed no other Westerners in town. People were just going about their day. Shop owners were not exactly fighting over our business. No one really made eye contact with us. Since I hate getting harassed in other countries (e.g. Egypt), I was just fine with this. But, as a tourist, some kindness would have been appreciated (I get it, I'm hard to please). Wanting to shake up our day, I bought some of the local attire.
My god, you would think that this hasn't been done before. I instantly went from persona non grata, to pseudo-celebrity, to mayor-for-a-day, to son-in-law-to-be for all parents with unmarried daughters.
But let's not get aways from the true reason we were in Santiago – to find Maximón. To give you a little background, Maximón is a roaming idol in Santiago, fused together from Mayan deities, Catholic saints, and conquistador legends. Of course, other towns in Guatemala have similar cults – such as the cult of San Simon in Zunil – but our sights were set on the bacchanal idol we had heard so much about in Antigua.
We had no idea where to begin, so we just started asking local townsfolk. "Sabe, donde esta Maximón?", I would ask. "No," they would tersely reply. We were striking out and our allotted time was running short. After almost two hours or so of wandering, we stumbled upon some tourists.
A Clue, Finally…
"Hi there. We're looking for Maximón. He's an…." "Oh, we just finished our visit," the female British tourist said. "It was troubling, actually," she continued. "They were beating and spitting on the people. It was disturbing to watch. We couldn't stay long," she said. "But how did you find him? We've been searching, but no one will say where he is," I replied. "There is a boy. A young boy. You can catch him walking away. Right there." She pointed at a grubby-looking child, no more than 10 years old, wearing a blue baseball cap pulled over his thick, matted hair.
We chased after the boy, who had now turned a street corner and was walking at a brisk pace. After catching up to him, and, after a bit of negotiation, we secured a reasonable price for his navigational services. The boy's name was "Joe." And off we quickly sped with Joe. Joe's English was as bad as our Spanish. But we did learn some interesting facts along the way: Maximón moves throughout the year; He does not stay in the same place more than three months; You must make an offering to him; He accepts all currency; and he is best experienced with copious amounts of booze.
We opened multiple gates and walked down back alleyways that winded through the town. It was like being backstage at a theme park. At the end of our walk, a nondescript, small, white building stood in front of us. "Aqui," Joe said. We cautiously stepped inside, where smoke billowed around the noticeably intoxicated guardians of Maximón. It was 10am. A table was set up in the corner of a room; the room being no larger than a large American bathroom.
Our Meeting
Three men and one woman sat at the table speaking incoherent Spanish. Empty shot glasses sat before them. A local came in to pay his respects. Joe was still by our side. The local kneeled before Maximón and clipped a wad of money onto Maximón's shirt. Unintelligible words came from the table. Joe explained that the local's wife was sick, and he had come to Maximón for help. Maximón, like most idols I've seen, seemed indifferent to the local's plight.
He stood motionless, expressionless, and about three feet high. He was comprised of a wooden mask, a couple of cowboy hats, a locally-woven blanket, and a half dozen or so ties and scarfs. He looked like a ten-year-old's school project where the project is to dress up a mannequin like a homeless person. He was woefully overdressed for our party and a fairly bad host, since I was never offered a drink. The local got up and walked out, looking no more relieved than when he arrived.
My Wishes, My Reality
I quickly took the local's spot, kneeling and attaching a bill to Maximón's coat. It seemed appropriate now that I made a wish. My present life was good – there was no sickness in my family, no strife. I really had no reason to be at Maximón's feet, which, I came to realize, don't actually exist. I thought for a second, completely caught up in the moment. Then, out of nowhere, a wonderfully lucid thought came to me and I hurriedly made my wish. I stood up, and, with Joe leading the way, we left the smoke-filled room.
The sun was high in the cloudless sky. Sunlight shimmered off of the calm, blue lake. A boat waited for us in the distance. I walked hand and hand with the woman I love down a long series of steps to the dock, where our boat captain awaited us. A pair of birds flew past. Small waves gently crashed on the shore. Time seemed to stop as I closed my eyes and thought of my wish. And just like that – it came true.