Why Malta?
Choosing our next travel location is a process. It takes hours of me researching cool places to stay, scouring the Unesco World Heritage website to find places to check off our list, and (most importantly) finding photogenic places to take that stupid, "perfect" family portrait.
And then I have to package the results of my research and present it to my boss/wife for approval (once, I even made an animated PowerPoint presentation, a la Clark Griswold from the original Vacation movie). After she waives me off for the 20th time because the timing isn't right, I finally get my chance to make my one-minute pitch. I talk to her about the culture we'll get, the chances that we need to take (we only live once!), the stories we'll have, the adventures we'll cherish, etc.
But when I'm done with my presentation, all she ever asks me is how much it will cost. Malta was approved because the airplane flights from Sevilla, Spain (where we live) to Malta were under $100 each. Score one for Ryanair.
What to Do, Where to Eat, What to See, Where to Swim
If you've come to my blog for shit like this, I'm so sorry to disappoint you. We're not the same people, so it's hard to tell you what you should do, or what you'll like. Having said that, here is (quickly) what we did and whether you should absolutely, positively, 100% do it or regret it for the rest of your lives: Stayed in St. Paul's Bay (it was fine since it was close to Gozo); Visited Valletta (it was amazing, do it); Visited Mdina (it was amazing, do it); Took the ferry out to Gozo and explored a little (it was fine, sure, do it); Went to Popeye's Village (meh, only if you must); and swam in the ocean at Golden Bay (yes, amazing). There. You're welcome. Moving on….
Flying Ryanair
I've flown shitty airlines before (hello Spirit Airlines; hi Germanwings; RIP Wow air), so I was fully prepared. Ryanair is a European staple. Everyone uses it; most think it's terrible. But, it got the job done.
Shitty, thin, flimsy seats. No entertainment. No food. Someone on the loudspeaker waking up my kid every 10 minutes so they can try to sell me perfume. You get the idea. But, it got us from Point A to Point B, so…fine. And they let us take on child carseats for free, so…great.
Logistics
Unlike other airports (I'm looking at you Bali), you won't be rushed by people when you get there (unless you're Justin Bieber. You're not Justin Bieber, are you? Hi Justin!). The car rental places are to your left when you exit the baggage claim. I only tell you this information because: a) you should 1000% rent a car; and b) I'm the idiot who fruitlessly wandered the parking lot with all his kids and all our luggage looking for our rental.
I used Goldcar rental because Enterprise wasn't on the island, and Hertz and Avis didn't have availability. Goldcar was fine. The insurance was about as much as the rental itself, but…and I'm never one to say this…you should totally get the insurance.
Due to the actions of everyone involved (workers were slow, kids had to go to the bathroom, car had to be inspected and reinspected and photographed by them and videoed by me), by the time we got our rental it was well past sunset. And then I had to get on the crazy roads and drive a car on the wrong side of said crazy roads. Having not driven manual in just about 10 years, and having never quite figured out what to do in a roundabout (I get the purpose, I just never know which lane to be in), and having really poor directions to our Airbnb, we arrived just before midnight to our accommodations.
Our Airbnb was great, though, so write me if you want to know which one we chose. I may have had to have (to have to had to have) the owner come from a local bar to let us in, but he didn't seem too drunk (really).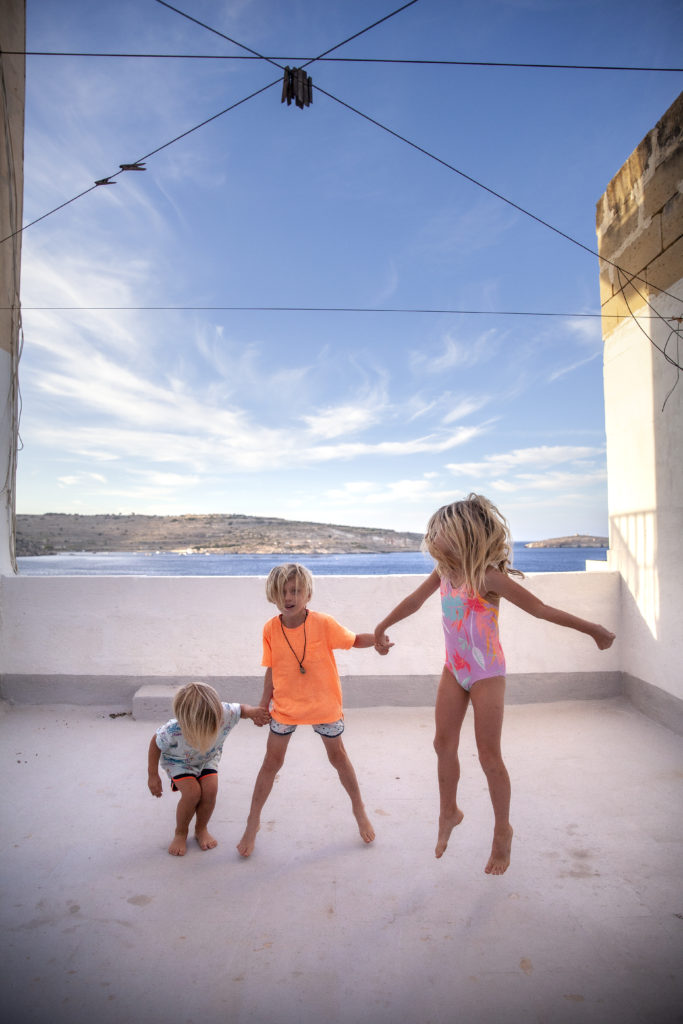 Can I Just Talk About Driving (and the Roads) More?
Holy shit driving is an adventure here. But, again, let me add that you should 10000% rent a car here. People are packed at the bus stops and I heard the buses are late all the time. And with three kids it would've been a nightmare. But I was so stressed every morning when I knew I'd be getting behind the wheel and that the roads were chaos.
Street signs were not very good (this is me being kind), and when you add that to the fact that people were driving both ways down clearly-marked one-way streets, as well as both ways down not-so-clearly-marked one-way streets, well, you get the point. Also, two-lane roads would quickly turn into one lane roads with large buses driving directly at you. "Double also," there were potholes and street debris everywhere. I could go on.
Valletta
Go here. Marvel at the history. If you're into the Crusades, Ottoman Empire, Knights Templar or Hospitaller, cool roads that seemingly drop into the ocean, colorful banners heralding some recent celebration, this is your jam.
We were told parking would be impossible but it was totally doable. Just make sure to place yourselves somewhere between the upper and lower gardens and you'll do great.
Quick rundown about Valletta:
Capital city of Malta

Setting for the Great Siege of 1565

Heavily bombed in WWII (so you're kids can't do too much damage)

Declared a UNESCO World Heritage Site in 1980

The European Capital of Culture in 2018
Now, we've been a lot of places in the world. But, man, Valletta really impressed me. It was just drop-dead gorgeous. Wonderful photographs to be had everywhere. We got lucky with the weather and parking, which helped make for a magical day. Plus we got pretty drunk at lunch, which helped make for a super magical day. Our only bummer moment was when the famous St. John's Co-Cathedral was closed on the Sunday we were there (what church closes on Sunday?).
Mdina
Go here. Marvel at the history. If you're into the Crusades, Ottoman Empire, Knights Templar or Hospitaller, narrow passageways that wind into each other, colorful banners heralding some recent celebration, this is your jam.
Quick rundown about Mdina:
Used to be called Rabat

Founded in the 8th century by Phoenicians

Former capital of Malta

Was involved in a bunch of sieges, or something like that…
Gozo
Probably go here. There are some salt pans, some UNESCO ruins, a cool fortress, and nice beaches. Oh, and they have world-renowned cheese and olive oil, I think…we weren't there long enough to try any.
To get here you can just take the ferry from the big island, which is remarkably efficient. Apparently, the ferry runs most of the day. We didn't even check the times, we just drove up and waited.
Gozo Ferry Craziness
Actually, here's the full ferry process with a car: You drive up and get in line, then you get out of your car and grab coffee, then you sip your coffee for 10 seconds before panicking when you see all the other cars starting to drive onto the ferry without you (except the cars stuck behind your car, which are all starting to honk their horns at you), then you drive onto the ferry and marvel at how many cars can fit into a tight spot without hitting each other, then you get struggle to get the kids out of the car when you can't open your door all the way, then you go onto the sundeck where you scramble to get the last seats (why don't healthy people let kids sit down?) but actually you end up standing up because the boat is clean and the views are absolutely spectacular, then while you're enjoying the views you'll wonder where everyone went and suddenly realize the ferry boat has pulled up to the dock and everyone has already gotten in their cars, then you'll struggle mightily to get the kids back in the car when you can't fully open the doors and now cars are driving past the kids and open doors, then you'll just say screw it and put the kids in the car without seatbelts, then with a car right in front of you you'll start the car with one foot on the clutch but the other food on the gas instead of the brake and you'll freak out that you almost had a huge accident in a small area of a giant boat with the gas peddle fully pushed down and kids who were unbuckled, then you'll drive out while sweating and pull over quickly to buckle the kids and then you'll be last in line in a huge caravan of cars heading to the same place. That was tough to relive. Taking huge breath now.
Popeye Village
I'm a huge fan, for some reason, of the Robert Altman film starring Robin Williams (the cartoon always creeped me out as a kid for some reason. I seriously have really, really bad, depressing memories about it). And, here we were, in the actual movie set, which was still maintained and now operating as a theme park. The problem was, it was really cheesy. They'll tell you at the entrance to take the boat ride right away as it'll get windy or crowded later. But skip the boat ride, it's awful. And they'll tell you to enjoy the show put on by the characters, it's so bad it's actually pretty good (and it's unavoidable as there's only one way in and out).
But there's only a couple of reasons to go here. First, to get a photograph of the lookout point when you approach the park. It doesn't cost anything and I know some people who just drove there for the shot and left without going into the park. Second, there is actually a pretty decent kids pool area. It's shaded and has a lot of fun slides. Surprisingly well done. Third, and from what I can tell is the main reason people go here, there is a beach with a bay and a very small water obstacle course. We didn't go there, but it looked passably acceptable.
Would we Return?
Yes, absolutely. Valletta was one of the more amazing travel days I've had.