Let's start with this, even though I love nasty comments or emails, I'm really not trying to offend you, so please hold back on sending them. Your country is great, whatever country you live in (ugh, even Egypt I suppose).
I'm just so happy that we were all born in ____________________, the greatest country in all the world. Right? We all live in the best one.
Thus, this post is merely to talk about our very subjective experience traveling in the country that we're about to write a lot of shit about – Fiji. If you're easily offended, just think of this as our diatribe on the experience we had in Fiji, not the nation itself. We cool? Ok, let's do this.
Nadi (or Nandi or Nannde or Nanni or Naddy or whatever)
We arrived in the third-largest city on Fiji – Nadi, which, incidentally, isn't pronounced like it looks and no one really could tell us how to say it right. Upon arrival we were greeted by what I would guess is a Fa'afafine (still not sure what these transgender people are actually called in Fiji, but for more information about other Samoan Fa'afafines read this). And while cruising the sketchy airport waiting for our bus to Suva, an even sketchier man approached me offering kava. Native Fijians are super nice, which is great. But this concludes the list of cool things that happened to us in Fiji.
Our two-hour bus ride to Suva quickly (slowly?) turned into a five-hour ride. Suva was impossibly rainy, yet all of that rain couldn't cover the layer of filth that, in-turn, covered the city. We hailed a rusted cab driven by a coughing Indo-Fijian (coughing Indo-Fijians make up about 38% of the population on Fiji I'm told) who picked us up and then proceeded to immediately pull into a gas station to fill up his tank while the meter ran and he ranted about the price of gas. Cool.
Towels? Anyone? Hello?
We were off to a great start until he dropped us off at a near-empty hostel/hotel in the middle of nowhere where it rained incessantly. Requiring an indoor shower with hot water, rather than the natural one provided to us outdoors, I asked the front desk of the hotel a simple request – a set of towels, please. This was just after noon. However, I had to go back and ask again at 14:15, 16:30, and 17:25. The towels came at 15:45 when we were leaving for dinner. This was the best experience I had at obtaining a towel in Fiji.
Just Give me Alcohol and don't Fleece Me
Alcoholic beverages in Fiji were expensive and, subsequently, the pours were weak. I was told, in so many words, that Fijians lack some enzyme to process the alcohol properly (apparently the same as Native Americans and Aborigines). The only real proof I can offer of this is the testimony of some white people at the hotel. And when would white people ever lie?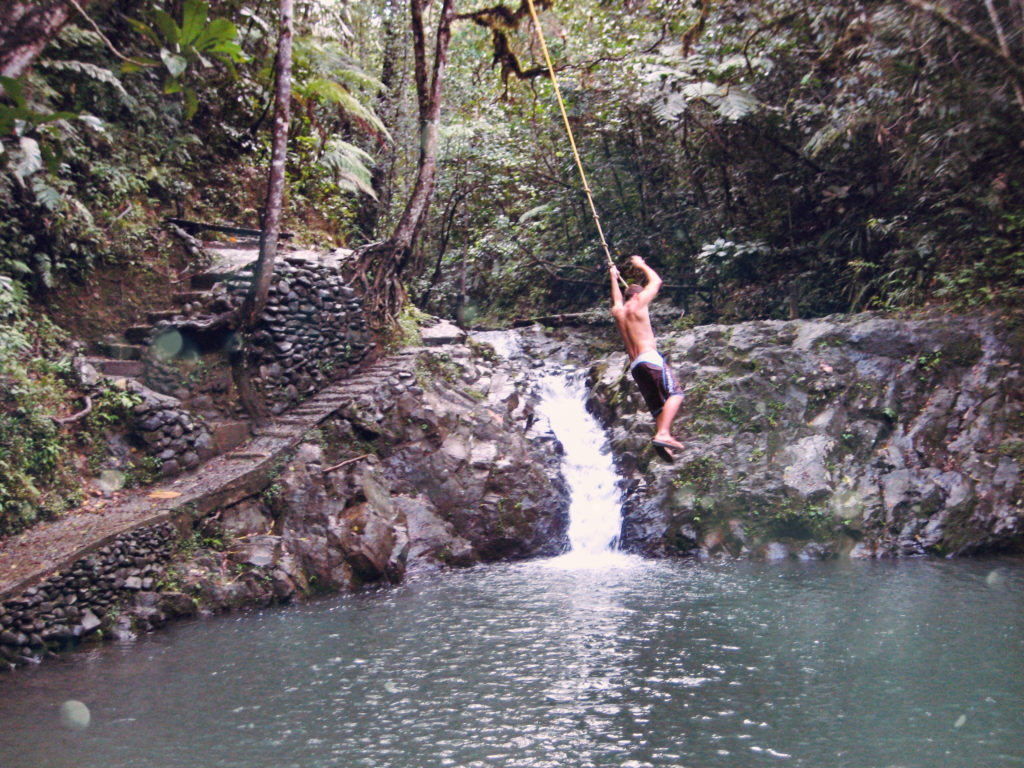 The next morning we headed to the Colo-i-Suva Forest Reserve where we were fleeced at the gate before entering and being attacked by centipedes.
The Ferry FROM Hell AKA The Ferry TO Hell
On our fourth day in this paradise(?) we were finally able to leave Suva and make our way up to Taveuni where we had diving lessons planned. We booked our passage by way of a shipping ferry operated jointly by Suilven shipping and Bligh shipping (named after the body of water that separates Viti Levu and Vanua Levu, which in turn is named after Captain Bligh of Mutiny on the Bounty fame). The ferry left every other day from Suva at 18:00 and arrived in Taveuni at 10:00 the next day. You can now use your fingers and toes to confirm that this meant 16 hours on a large boat in the middle of a choppy ocean.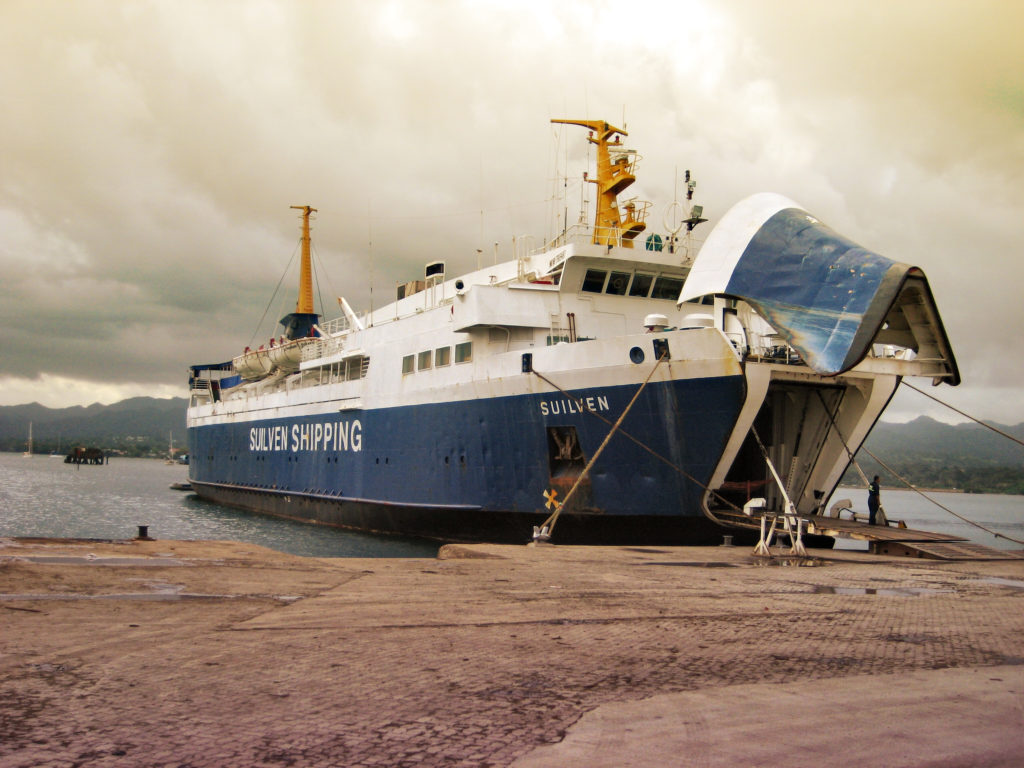 Now is a good time to note that Fijians are Melanesian people who have been sailing the waters around Fiji since settling the area around 500 B.C. In other words, seafaring people…experienced at riding waves. But, apparently, 16 hours of a boat literally going "up, up, up, up, up, up, up, up, up, up, up, up, holding, holding, holding, holding, down, down, down, down, down, down, down, down, down, down, down, down" is just too much for them to take. There was Fijian vomit EVERYWHERE.
Oh, and, the ferry we took eventually capsized years later. Go figure.
To Hike or Not to Dive, that was the Question
When we disembarked the vessel, we met one of our dive instructors who was there to transport us to our dive hotel. Now, the hotel was a mere five minutes by away by boat yet cost us $60. Why? What fuel are they using? Does the boat run on plutonium?
Upon reaching our dive resort we were greeted by another fa'afafine-like individual (YES!), a bald Swiss man with a pony-tail (hard to imagine I know but please try) and a German woman who greeted us with both a stern hello and a "Don't touch that dog, he bites." We were off to a great start.
We were aware that our tent accommodations were going to be shitty but you can never really fully prepare yourself for such things. We were provided with one towel (hooray! even though it was one of those stay-dry towels that felt like wiping a moldy sponge from 1982 across your body). The towel was useful when we took our daily cold ("refreshing" as the resorts in Fiji called it) shower.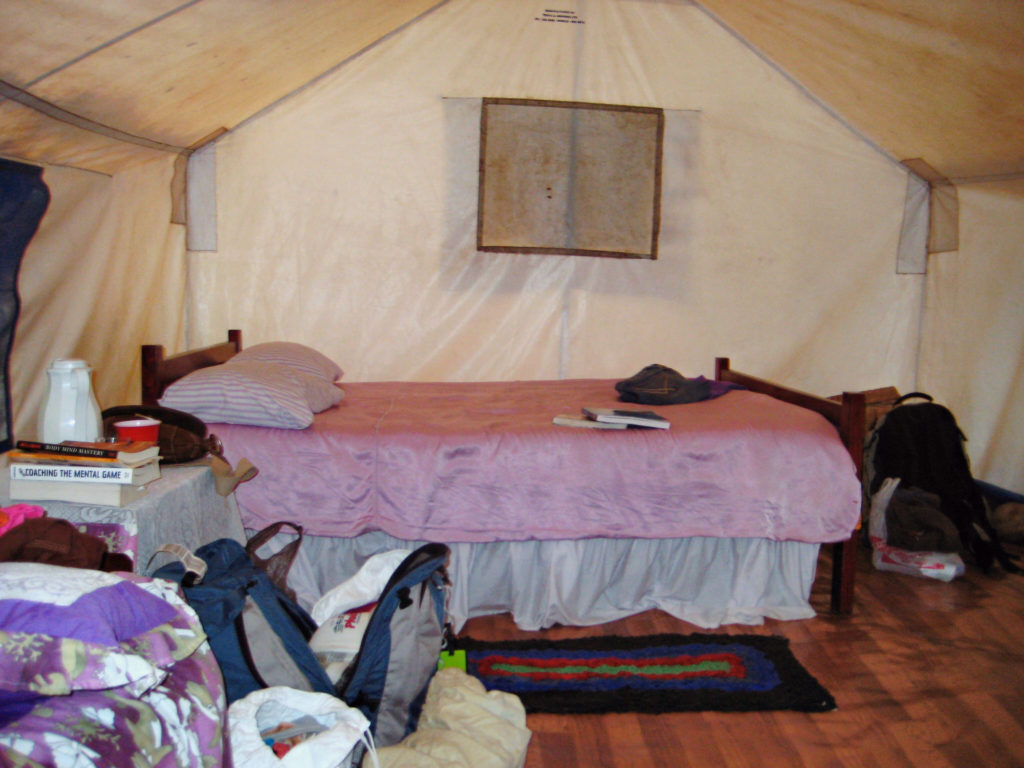 Since the weather conditions precluded us from diving right away, we had plenty of time to hike through the most gigantic spider webs I've ever seen. In fact, creepy crawlers were everywhere on this god-forsaken island. Nights provided no reprieve as we constantly had to endure a barrage of red centipedes, coconut crabs, and mosquitos. The landscape reminded me of Hawaii, if Hawaii was full of shitty little nuisances.
Kava
On to our kava experience. Kava is known to be a disgusting drink that looks like muddy water and tastes fully equivalent to how it looks. It is also said to be something of a full-body muscle relaxant. The looks and taste part were spot-on. The body effects were, as far as I could tell, only stomachaches. Am I missing something here?
Diving and Moving on
Then we went diving. I suppose my wife liked it more than I did. I just didn't get the appeal so much. Maybe it's because I wasn't very good at it and kept using up my oxygen. This one is all on me. The diving in Fiji is great. I'm just not really into diving I suppose. Sorry Fiji, you're not at fault here.
I've got Two Words for you – Pah-rty (Okay, Sorry, I have One Word for you and it's Misspelled)
So, we decided to leave the north island (by ferry again, ugh), and head to the beautiful Yasawa islands. True paradise. However, en route to paradise, we let our masochistic selves take over and derail any possible forthcoming pleasure. We made this decision because we were over being alone in our room each night, we wanted to see people and have a "good time."
Therefore, we chose the world-famous party destination – Beachcomber Island. Big mistake for anyone not 19 years old. Here's a top-ten list (bottom-ten?) of the worst things about Beachcomber:
10 Worst Things About Beachcomber
10) It was expensive. Internet was 50 cents a minute on what amounted to a dial-up connection. Proper rooms (bures) were about 100FJD more than dorm rooms. This poor man's Hawaii put us way over budget.
9) The resort's meals were inclusive. That meant that we couldn't exactly choose. Well, strike that, we could actually choose; either eat buffet food or not eat at all. For more on this see #1.
8) The island was small and devoid of any real activities. Yeah, I guess we can't complain since there was endless alcohol and soft-sand beaches, but you could walk around the island in under five minutes and the alcohol was expensive (see #10). So this meant drinking a lot. A lot, a lot. Seriously, we finished a bottle of rum before lunch one day. The good thing is that we didn't remember how bad lunch was…In fact we don't even remember lunch. Other than that you could parasail and snorkel. Whatever, maybe this one isn't so bad.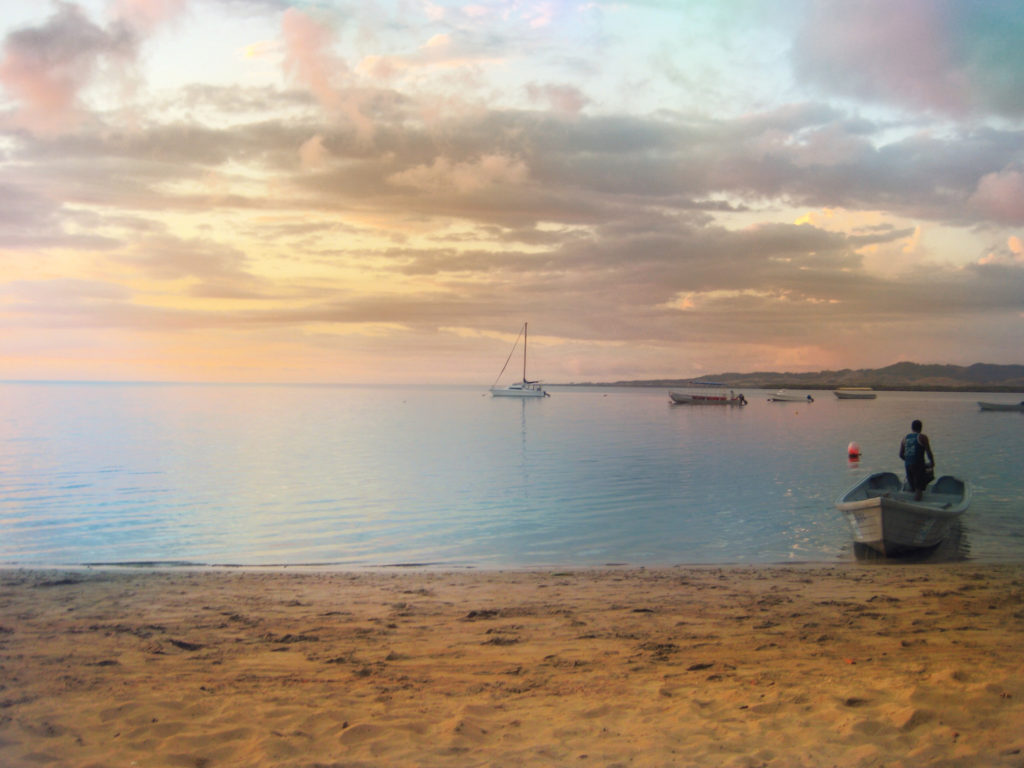 7) It was like being at an 18-and-over club back home. Honestly, everyone was around 18-19 years old and perfectly separated into clicks consisting of their fellow country-persons. Remember how cool beer was to everyone back then? We were reminded frequently. On a side note, the only other Americans there were honeymooners from Santa Rosa, and they thought the island was awesome. The new bride was constantly taking shots with random guys at the bar while her new husband was nowhere to be found. Apparently beachcomber is the ideal honeymoon spot for open marriages.
6) Dorm rooms!! These are fairly tolerable when they consist of 4-6 people. Not when it is 120+ people in one room.
5) Bula!!! Ok fine, this complaint isn't just reserved for Beachcomber but for Fiji in general. Bula means hello and goodbye. This is fine because we love a similar word, Aloha, in the Hawaiian language. Unfortunately, Bula is also used for I love you, I hate you, I'm drunk, come here, I didn't mean to hit you, etc. And it is incorporated in maybe eight of the top 10 Fijian company names (e.g. Bula News, Bula Radio, Bula Insurance, blah, blah, blah), etc. you get the picture. I refused to say it the last week we were there. If that makes me a bad person, so be it.
4) The bar scene. Maybe this could be under #8, but let me explain. Every night there was a band (good), an MC (okay) and several games/events (inexplicably stupid). Let's just say that a 3-hour build-up to a silly crab race that served as the main event is not what I call a fun, party (or even an acceptable) night.
3) The Beachcomber website and accompanying literature praising the resort. Seriously, it's what made us book three nights in advance. It's rare that we ever want to leave a place early but you should have seen our faces when we realized we had our dates wrong and had an extra night to stay.
2) Not enough alcohol. Ignore what we said in #8 about there being an endless amount of alcohol. I was stupid when I wrote that. Simply put, there was not enough alcohol to allow us to ignore the people around us long enough to have a good time.
1) The stuff they called "food"! Three buffets a day is not okay (feel free to chant this). We had a similar bad experience with a buffet on the cruise we took in the Caribbean. On the cruise we figured we were in the minority of those aboard, since we figured everyone just fell into the "typical Americans" stereotype. But we were wrong! People from around the world adore buffets apparently. We're guessing that it's the endless supply of cold French fries, stale bread, fatty beef, and assortment of random accoutrements. Gross.
Leaving Beachcomber for Paradiii…oh Shit…this is Worse
Finally, the time came for us to leave Beachcomber and head off to the beautiful, wonderful Robinson Crusoe Island. The name itself just invokes magic and daring, no? Let's preface the next part with the fact that we actually preferred Beachcomber. Leave this blog post now if you want to avoid another strong dose of cynicism.
Our journey started out just fine. We had a driver that gave us a free ride to the boat that would take us to the island. The driver even stopped for us to visit an ATM (cash-only island) as well as at a liquor store (owned by his family) to pick up beer for the ride. The liquor was enough to ignore the fact that the driver took this opportunity to run several of his errands. This turned a 30 minute drive into an hour and a half.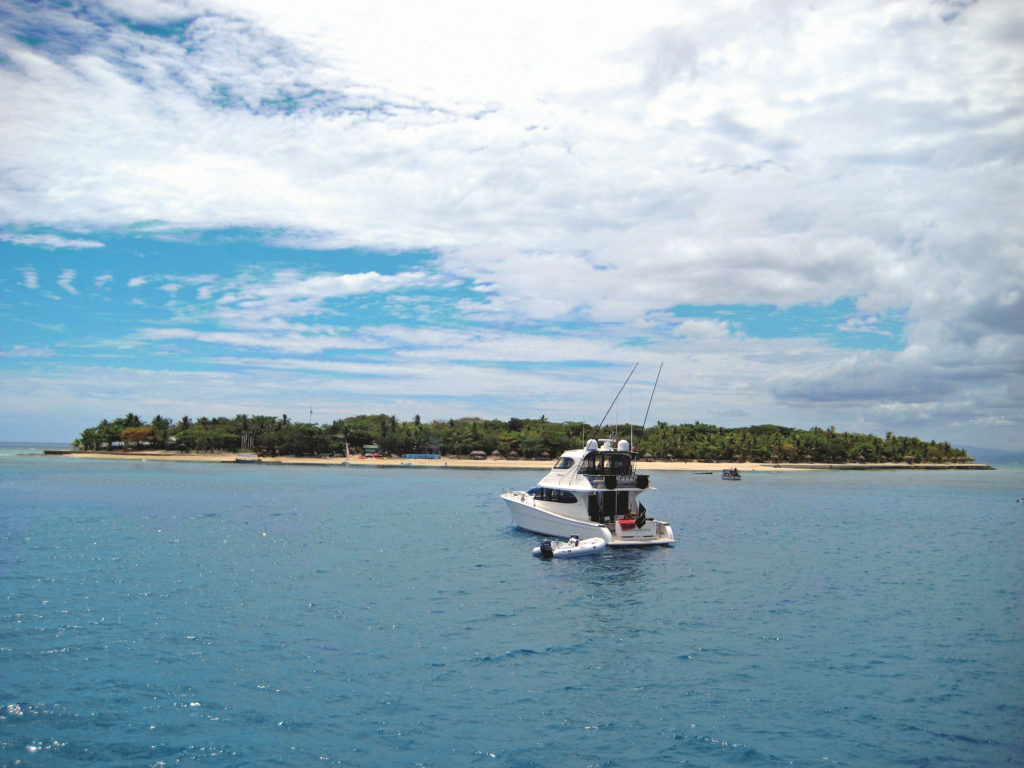 Kiwis Gone Wild
We did have company on our ride however. Three Kiwis that stayed with us at Beachcomber made the same mistake in booking the large tour package to Robinson Crusoe. Importantly, one of them was a guy named Andrew that we personally watched hit-on about a dozen girls at Beachcomber. In fact, one of them was Caitlin(!) when she was left alone for almost a full minute! He was pretty embarrassed about that, but his later admission to us that his dream was to marry a lawyer from California made us (both of us since he didn't specify man or woman) the ones that felt a little uncomfortable. I kept his eye on him, you know, but not in that way….
The Hotel – You Never Get a Second Chance to Make a First Bad Impression
Several beers deep we boarded a boat and took a short trip through mangroves to the island. Our welcome came with a kava ceremony and an introduction to our room. Now, don't let the website fool you, the single bure is smaller than a gas station restroom and half as clean. Only through copious amounts of flirting did I get us a cheap upgrade to a larger bure (Fa'afafines love me).
Worst Shower I've Even Taken in My Life…
Let's talk about the showers. First, they were cold…oh, sorry, I mean "refreshing." These "refreshing" showers came with a guilt-inducing sign explaining to us why we were to enjoy the showers, since the locals did not have fresh water to take showers. My white-man-entitled self disagreed. The shower also came with a list of instructions: 1) Fill up bucket with cool fresh water; 2) Hoist bucket into air; 3) Turn on faucet attached to bucket; 4) Enjoy. Caitlin added #5) No way in hell.
Besides, even if she showered we didn't have a towel because our request for one at the beginning of our stay went unanswered for the entire duration of our stay. Even when we tried to buy one they informed us they were out.
On to the positive (but only for a short while), our first night's dinner came with a great show that involved a traditional dance as well as fire festivities. This went a long way in helping us forget how bad the meal was (inclusive at this resort as well). Side note about the food: Fijians love bread. There, I said it. Sweeping generalization as it is, they absolutely love it and can't get enough of it. The empirical proof is that they set out an amount equivalent to one full-sized American loaf per person of toasted white bread at breakfast, and the same amount of non-toasted white bread at dinner.
Second side note: we saw our first chef in Fiji! It was a lady manning a large grill that was only used to toast no less than 30 pieces of bread at one time. She was very hard working – rightfully so since it took a lot to keep up with our ever-growing carb addiction.
Wanted: A Masseuse to Pay Attention to Me
In terms of activities, I paid for an inexpensive massage one afternoon on the island. Unfortunately, I wasn't exactly the focus of the massage. The masseuse continually stopped to point out what people around them were doing. For example, she reported big news like, "look, they're moving a water container." I was also a little confused when the masseuse told me she needed a break after 25 minutes. After lying on the table for the next 10 minutes awaiting her return, I realized that her "break" meant she was finished. I informed Caitlin to promptly cancel her scheduled massage.
Firewalker, Texas Ranger
Ok, so this next part I've already written another entry about. You can see it here.
Here's the whole rundown. There were a lot of day-trippers on the island that day, so the island decided to put on its very best face and do a little show.
First, the Fijian staff (meaning, native Fijians) prepared a traditional hungi, where food is wrapped and cooked in the ground by hot rocks. Second, the staff told some stories about tradition, wove some baskets, etc. Finally, the staff took the food out and uncovered the hot rocks.
To prove how hot they were the staff poured a small amount of water on the rocks which immediately produced steam. A group of Fijians then came out and took about five steps (in a marching-in-place sort of manner) on the hot rocks. It looked something like this.
After the men were done, they asked for any volunteers. Not one to shy away, I spoke up. The head islander asked me to come forward and stand next to him just beside the rocks. The islander then seemed almost perturbed that I actually volunteered and he just muttered to me – without making eye contact, mind you – "test out the rocks." So, I barely touched them with my toes and they were hot as fuck.
So then the islander then keeps looking out into the distance and just mutters that I could do it if I wanted to. "The hell if I'm going to back down in front of a hoard of day-trippers whispering 'He's not going to do it,'" I thought. I stepped on those damn rocks and took about 4 steps. When I jumped off of the rocks to the sound of roaring applause, the islander seemed so pissed off and told me I better go soak my feet in the ocean.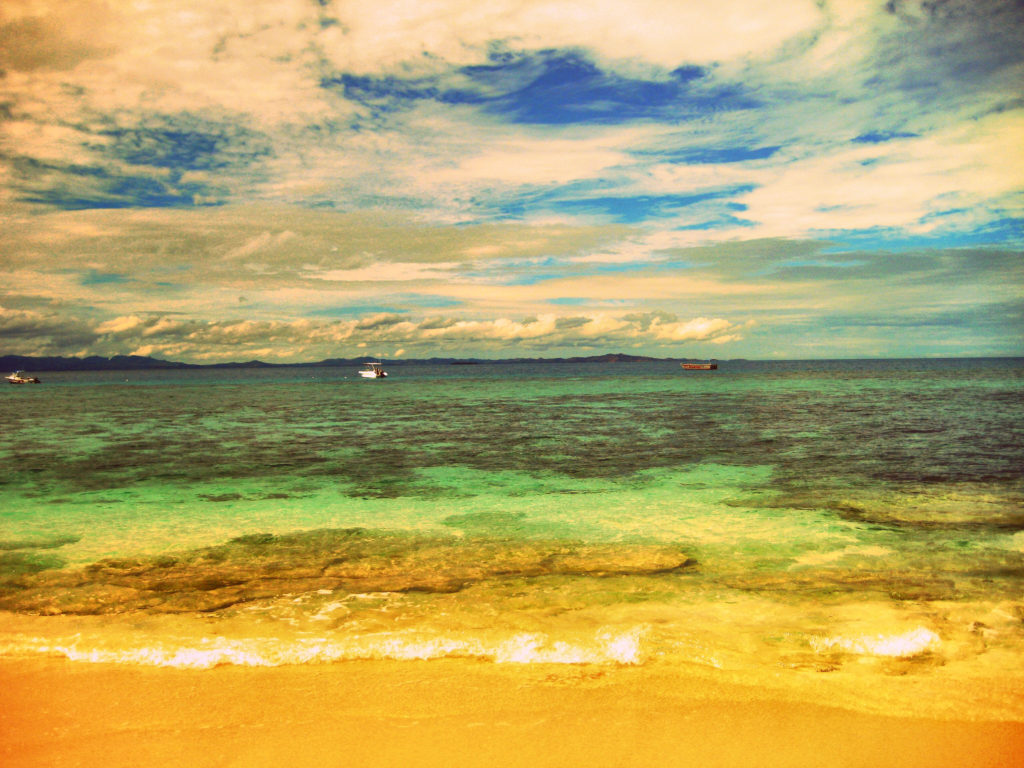 What is "Pain" in Fijian?
I then walked down to the beach and stuck my feet into the coolish saltwater. While doing so, another islander on a boat looked at me and just said, "Hot rocks?" This made me feel better thinking this was a common occurrence. So, I just left the water after about 20 seconds of soaking my feet.

Lunch was next, and I stood in the buffet line without mentioning how unbearable the pain was. Only I was in too much damn pain to enjoy any of the crappy food. We raced back to our room where stuck my feet in a bucket full of cool shower water. After desperately wanted hot shower water, I now would've killed for ice cold.
After a pain pill and a stiff drink, the pain was still too unbearable. So, after about an hour we managed to finagle some ice water. The owners were ridiculously rude and told us that nobody had actually volunteered before and they actually made a few comments about us being "stupid Americans." WHO ASKS FOR VOLUNTEERS IF THEY DON'T ACTUALLY WANT VOLUNTEERS?
Later on we learned that the ever-barefoot Fijians even prepped for the hot-rock walking by soaking their feet in ice cold water for a half hour before they perform. Fucking cheats! That would've been nice to know. I had multiple blisters the size of quarters covering the bottom of my feet for the next five weeks.
Fiji you suck!